This week's Star of the Week is Archie Whittaker for his effort and determination in maths.
Joshua Woodley received this week's vote for the Pride of Y6 for listening to and acting upon feedback in his work.
Year 6
BIKEABILITY 2018
This week Year 6 have been out on the streets of Dunholme, learning how to cycle safely. The children were impeccably behaved and have hopefully learned some life-long skills.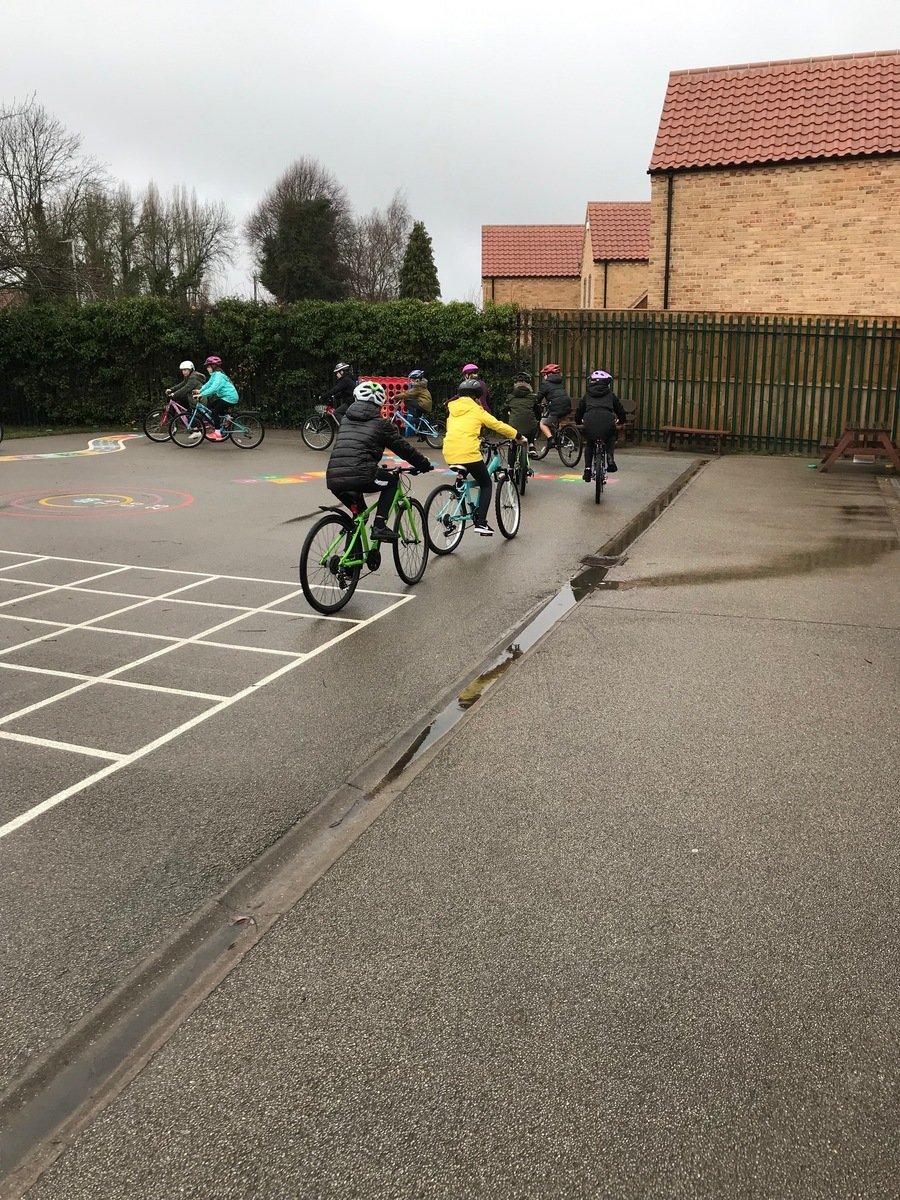 Residential Visit 2018 - 29th Oct - 2nd Nov
Monday 29th October 2018
Today we arrived at Patteson Lodge just after lunch time. We met Eagle-Eye and Sonic (our guides) and settled into our accommodation. After lunch, we made our way to the coast to study two very different coastlines. In Happisburgh, we looked at erosion and how the coastline had eroded away at an alarming rate. In Sea Palling, we looked at how the coast was being protected with sea defences and how erosion was not as bad here.
We returned home in time for tea - Sausage, chips and peas (gravy optional) Yum!
This evening we have been into the woods for a safari walk and listened to an old story of a local legend. We are currently drinking our hot chocolate and some of us look very tired. Hopefully, we will sleep well.
Tuesday 30th October 2018
Success! We were all asleep by 10:30 and slept through until 6:30 this morning. After a hearty breakfast (bacon, beans and toast) we headed to Alymerton Field Study Centre to learn how to be pirates for the day. We took part in various activities that involved climbing up towers and swinging on zip wires and ropes. We had great fun and challenged ourselves, showing great team work along the way. We didn't let the rain and wind dampen our spirits!
This afternoon we went to West Runton to learn more out coastal erosion and also looked at the rock pools to study how life adapts to these harsh environments.
This evening, after a lovely tea of pizza, jacket potato and sweetcorn we have been bowling where a few children showed great skill, with our champion scoring 112.
We are looking very tired tonight, but we are making sure we all shower before bed (honest).
Wednesday 31st October 2018
Lots of sleepy children had to be woken up this morning at 7:00am in time for an early breakfast. After cereal, sausage, toast and beans we got ready for the day. We headed by coach to Morston where we got on a ferry and went out to see the seals which are beaching on Blakeney Point to pup. After much excitement, we disembarked the ferry on the tip of Blakeney Point and then spent the morning learning about the sand dunes, long shore drift, erosion and transportation.
This afternoon, we learned about and witnessed how plants and animals adapt to their environments before trekking across the mud flats and salt marshes at the mouth of the river Glaven. It was very cold but great fun!
Tonight we have showered and are all now sitting in our pajamas listening to an amazing storyteller.
Thursday 1st November 2018
Another good sleep last night and another lovely breakfast this morning. However, today we were met with rain all day. Despite this we soldiered on and didn't let it stop us learning and having fun. This morning we were split into our three groups where we took part in some team challenges to earn points. We had to work as part of a team and really improved our communication skills in order to make sure we could work together to complete certain challenges.
After lunch, we went to a local woods - Bacton Woods - where we took part in a group orienteering challenge. We ventured into the woods with a compass, a map and a teacher to find certain clues in the woods and make it back home to base. Along the way, we had to be careful not to get caught by the monsters and their super soakers.
This evening we have had a nice chicken dinner and are currently getting ready for the disco. It smells lovely!
Friday 2nd November 2018
This morning we had to be up early to pack for our return journey home. We had to work as a team to strip all of our beds and make sure that we weren't leaving anything behind. After breakfast, we headed to Cromer where we visited the lifeboat museum and pier in order to see the state-of-the-art lifeboat. We ate our lunch on the beach and then met our coach ready to make the long journey home.
TERM 2 OVERVIEW
Term 2
Theme for Term 2 - Our curriculum areas focus on scientific and geographical change with our residential visit starting our focus on these topics. We will be looking at different coastal habitats to explore erosion and coastal change. In addition to this, will be looking at how plants and animals have adapted and evolved over time to survive in different environments. Our residential visit will provide us with great opportunities to explore Britain's varying and unique coastlines, which will help us to understand how erosion and deposition shape our land. In RE, our focus remains on religious journeys, although this term we will be looking at significant figures and the idea of pilgrimage.
Visit to 'The Journey' Holocaust Museum
On Tuesday 25th September Year 6 visited the Journey exhibition at the National Holocaust Centre as part of our theme learning. We had a fantastic day exploring the museum exhibit and learned a lot about how the Nazi Party treated the Jewish community during the 1930s. Listening to Zdenka, a Holocaust survivor, ,speak in the afternoon was inspirational.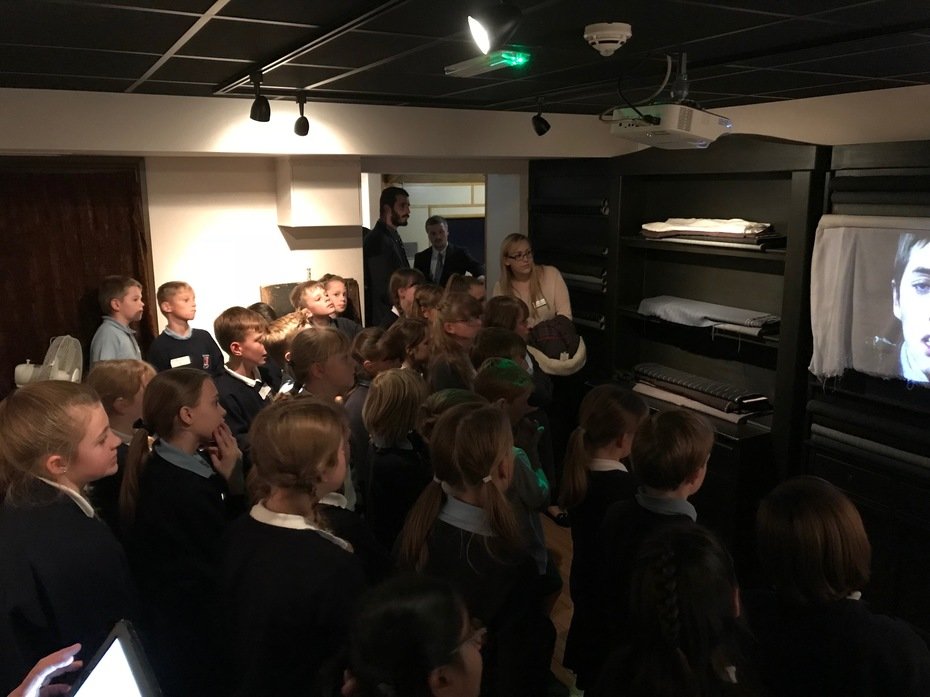 PE Kit
- Please can you ensure PE kits are brought into school on Monday morning. This includes appropriate outdoor footwear.
Our PE sessions for this term are Monday afternoon (indoor) and Thursday afternoon (outdoor).
Diary Dates for Terms 1 and 2:
Sep 25th - Visit to the Holocuast Centre
Sep 28th - MacMillan Coffee Morning
Oct 2nd and 4th - Parent Consultation Evenings
Oct 3rd - Harvest Service
Oct 15th - Residential Visit final information evening - 6:30pm
Oct 18th - FODs Disco
Oct 19th - Last day of term
Oct 29th - 2nd Nov - Y6 Residential in Norfolk (please note 29th Oct is not a school day)
Dec 20th - Last day of term
Reading
This year we are focusing on developing a love of reading. Year 6 have already spent the summer reading one of the books from our 'Recommended Reading List'. We are going to be sharing our love of books and writing reviews to interest others in the books we read. We also have a reading competition in class - ask your children about 'Book Bingo'.
NEXT BOOK CIRCLE WILL BE TAKING PLACE ON DECEMBER 20TH.
Make sure you have read your book by then.
We are also asking all children to send in photos of themselves reading in unusual places.
Please send your photos to year6@dunholme.lincs.sch.uk or carl.parkin@dunholme.lincs.sch.uk
This year we are running a book circle. The children are enthusiastically talking about the books that they are reading. This has inspired many of us to try new titles and we have waiting lists for certain books!
The children have now chosen their book for November. The deadline to read this book is 20 December when we will be hosting our next book circle.
HOME LEARNING:
All homework is handed out on a Friday along with new spellings. Maths and English should be handed in BY THE FOLLOWING THURSDAY along with the Homework Diary.
Homework Diary:
Please support your child in remembering to complete his/her homework diary each week. Your child should record homework, daily reading and a recount of key events in the week such as: clubs attended, relative-visits, walking the dog etc. The diary should be signed each week to indicate your child has completed his/her homework and reading. It is also a useful way to communicate essential information to Mr Parkin or Mrs Dawson, if appropriate. The diary should be handed in on Friday.
Spellings: NEXT WEEK'S SPELLING TEST IS ON THURSDAY.
This week, we are working on words which contain the prefix il-, im- or in- as listed as an expectation in the National Curriculum for KS2.
Homework to be handed in on Thursday:
English:. HYPHENS
The children need to complete both sections from the sheet where they have to add the correct punctuation to the sentences.
Maths: FRACTIONS
Complete any twelve questions focusing on the work and concepts we have covered this week.
Useful websites to help with learning at home.
http://resources.woodlands-junior.kent.sch.uk/maths/timestable/index.html
http://resources.woodlands-junior.kent.sch.uk/maths/fractions/index.htm#ratio
http://nrich.maths.org/2730 (Flash is required to play this pairs games, matching fractions of money.)
http://nrich.maths.org/4824 (Flash is required to play this matching ratio game.)