The School Games Mark is a Government led award scheme launched in 2012, facilitated by the Youth Sport Trust to reward schools for their commitment to the development of competition across their school and into the community, and we are delighted to have been recognised for our success. With an increase of young people competing in local inter-school competitions this year, we are extremely proud of our pupils for their dedication to all aspects of school sport, including those young volunteers, leaders and officials who made our competitions possible.
As part of our application, we were asked to fulfil criteria in the areas of participation, competition, workforce and clubs, and we are pleased that the hard work of everyone at our school has been rewarded this year. We would like to thank everyone that helped us achieve this.
Sport Premium for 2022/23
At Dunholme St Chad's Church of England Primary School we pride ourselves on promoting a range of activities through the taught curriculum, extra curricular activities and visits which promote an active lifestyle. We support the government's initiative to combat obesity and enjoy being active.
Our school vision is to create a curriculum that develops, motivates and enthuses every individual child to become a lifelong learner. We aim to give opportunities for all pupils to develop their leadership, coaching and officiating skills. As a school we want to create a buzz about physical activities where every child feels confident and ready to participate.
We are delighted to have received the GOLD Sportsmark award to recognise our achievements in promoting physical activity last year. We are working towards achieving gold again this year with an increased participation in competitions and enrichment activities and encouraging personal challenge.
During this academic year all children will have the chance to compete in sporting events, whether that be in school or as part of a tournament in another venue. Please take a look at our Active Lifestyle Newsletters below to see what we have been getting up to.
Physical Education (PE) is a statutory requirement of the National Curriculum; the aims of the revised National Curriculum with regard to PE are to ensure that all pupils:
develop competence to excel in a broad range of physical activities

are physically active for sustained periods of time

engage in competitive sports and activities

lead healthy, active lives.
Coming soon ... our Sports Action plan for the year 2023 2024
How we spend our Sport Premium
This year we have focused spending our Sports premium on the following areas: gymnastics lessons, renewing equipment, enrichment activities, including extra curricular clubs.
We audit our resources and make sure that we have the correct equipment to enable high quality PE lessons to take place.
Please click on the link below to find out how our sports premium should be spent.
https://www.gov.uk/guidance/pe-and-sport-premium-for-primary-schools
Change for Life
http://www.nhs.uk/change4life/pages/overview-policy-background.aspx?filter=OverviewAndPolicyBackground
Change4Life's aim is to inspire a broad coalition of people, including the NHS, local authorities, businesses, charities, schools, families, community leaders - in fact anyone working with families or individuals - to all play a part in improving the nation's health and well-being by encouraging everyone to eat well, move more and live longer.
Our school supports the Government Initiative by using Change for Life Materials in school. Our Year 5 Sport Leaders run a Fun Club twice a week that supports children develop their attitudes to exercise, socializing and confidence in school. They use the pack and resources from Change for Life to plan, prepare and deliver each session. This supports our Pupil Premium Strategy by allowing all groups of children the opportunities to develop their personal and social well being in and out of school. The School Learning Mentor oversees the progress each child makes and monitors who attends. Our aim is that children who attend the club while in KS1 will develop the skills to become a Sport Leader in year 5 and eventually lead the club.
The Year 6 Play Leaders are supporting the playtime supervisors on the KS1 playground to encourage children to keep active and play some games. The Year 6 Play Leaders and Year 5 Sports Leaders have recently had some training with Allison Consultancy to give the ideas about how to keep the children active through fun games.
Policy
Swimming
Children in Year 4 participate in swimming during terms 1 to 5. In Term 6, children in Year 6 go swimming so that we can audit who has passed the statutory 25m. We are delighted that 94% of children in Year and 6 can swim 25 metres.
Please use this link to see the swimming results for swimming and water safety for pupils in Year 6 in July 2023.
Curriculum
Please see individual year group pages for curriculum coverage across the school.
Pupil Voice
Year 6 Play Leaders support children on KS1 playground during morning break. They teach the children playground games and encourage team taking and playing fair.
The Team Captains will support the PE Lead organising sporting events throughout the year.
Extra Curricular activities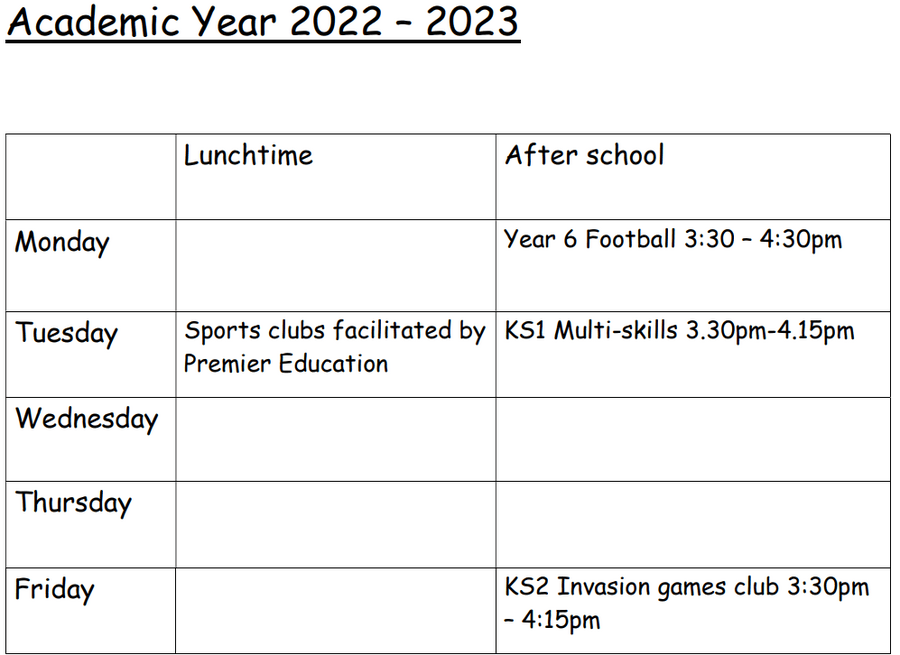 Please look at the contact details below where you can get information about local sport clubs that the school recommends and have either used or promoted in the past.
Premier Education for after school, weekend and holiday clubs please contact 01522 241044
Eastgate Tennis - for tennis membership and lessons please contact 01522 534084
Lisa Hurst Dance - for dance tuition please contact 07715406911
Yarborough Leisure Centre - for swimming and other leisure activities please contact 01522 304400
Welton Football - for clubs and teams of all ages please visit the club at Manor Park, Hackthorn Road, Welton.
Lindum Hockey Club - please visit their website for more details. Website: https://lindumhockey.co.uk/
Lindum Cricket Club - please visit their website for more details. Website: https://www.lindumcc.co.uk/
Lincoln Tennis Academy - Please visit their website for more details. Website: https://clubspark.lta.org.uk/LincolnTennisAcademy
In school house Competitions
Well done Lancaster for being the overall winner of the 2021/2022 house competition.
Active Lifestyles Newsletters
2022/2023
2021/2022
Clare Thompson and Andy Harris
PE Subject Leaders