This week's Star of the Week goes to ...
This week's Pride Award goes to ...
Term 5: What are the wonders of the universe?
Golden Thread: Ambition and Aspiration
Big Idea: Beauty
Earth and Space Knowledge Organiser
This term, the children will be exploring the many fascinating elements of our planet, the 8 planets of solar system (Pluto was reclassified as a 'Dwarf Planet' in 2006) and our moon. They will be introduced to why we have day and night, how the planets orbit the sun and how moons orbit their planets. The children will also explore how the ideas about the solar system have developed through history, understanding how the geocentric model gave way to the heliocentric model by considering the work of scientists: Ptolemy and Copernicus.
Our Novel Study this term is: Wonder, by R.J. Palacio
'EGGSELLENT' EASTER BREAK EARTH AND SPACE PROJECTS:
Term 4: What are the causes and consequences of earthquakes?
Golden Thread: Continuity and Change
Big Idea: Consequences, Similarities and Differences
Geography: Earthquakes Knowledge Organiser
This term, Year 5 will explore the science and geography behind… EARTHQUAKES! We will look at the significance of the Earth's structure in causing the movement of tectonic plates and seismic waves. This theme of learning will expand across the curriculum, and we will be writing non-fiction and narrative texts relating to earthquakes in English and exploring Richter scales through our learning of decimal numbers in Maths.
Our Class Novel this term is: The Hobbit, J.R.R. Tolkien
Year 5 Remote Learning on Earthquakes...
Term 3: What is the legacy of the Tudors?
Golden Thread: Continuity and Change
Big Idea: Legacy, Power, Consequences
History: Tudors Knowledge Organiser
Science: Forces Knowledge Organiser
This term, Year 5 will be immersed in the significant historical events of Tudor England. We will be exploring the breadth of Tudor history, starting with how the period began with the unification of the Houses of York and Lancaster in 1485, right up until the death of Elizabeth I in 1603.
We will discover all there is to know about the renowned King Henry VIII and what really happened to all of those wives of his!
Looking through the lens of our Golden Thread and Big Idea this term, we will discuss and evaluate the significance of the Tudor period in relation to the impact it has had on the England of today.
If any ruling family could argue their legacy, there's no dispute; the Tudors certainly left one behind…
Our Class Novel this term is: My Friend, Walter
Take a look at some of the fabulous Anderson Shelters we made in DT!!
Term 2 Homework
Homework will be uploaded on a weekly basis, so that it can be accessed from home. It is very important that homework be completed to support learning, as well as provide the parents an insight as to what is going on in the classroom.
| Name | |
| --- | --- |
| Termly 25 Term 2.pdf | Download |
| Weekly Spellings Week 5 -ous.pdf | Download |
| Week 6 Apostrophes for contraction and inverted commas.pdf | Download |
| Week 6 Perimeter.pdf | Download |
| Week 5 Past Perfect and Past Progressive.pdf | Download |
| Week 5 Multiply and Divide by 10, 100 and 1000.pdf | Download |
| Week 4 Grammar Recap.pdf | Download |
| Week 4 Multiply by 10,100 and 1000.pdf | Download |
| Weekly Spellings Week 4.pdf | Download |
| Week 3 Factors, Common factors and multiples.pdf | Download |
Term 1: Fight for your Right!
Golden Thread: Equality and Diversity
Big Idea: Protest
Fight for your Right Knowledge Organiser
Properties of Materials Knowledge Organiser
This term, Year 5 will be immersed in the British and American History of protests. They will learn about the Suffrage movement of the early 20th century, as well as the Civil Rights Movement of the mid-20th century and how both of these movements have had an everlasting impact on the world we live in today. The children will also have the opportunity to consider and discuss how these movements echo in today's society and how the themes of these social histories can be seen in modern day protest movements.
Magna Carta
We started off this theme by learning about the Magna Carta and how significant it was (and is!) in ensuring everyone has rights today. We wrote our own Magna Cartas detailing what our rights and responsibilities were in Year 5.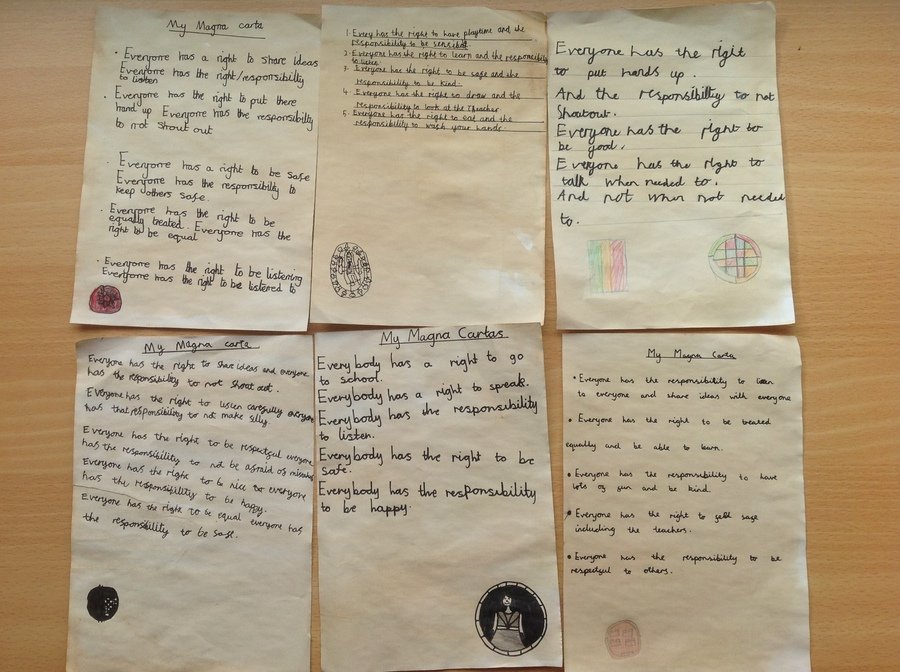 Black History Month Learning
As this month is Black History Month, the whole school have been learning about Black History and reflecting on racism and discrimination in history and in the modern world. It has been really great for Year 5, as it links so closely with this term's theme "Fight for Your Right"!
We focused our learning on Barack and Michelle Obama for our significant figure(s) in Black History and then we created our own speeches in the style of the Obamas to raise awareness of racism and discrimination. We then recorded these on our class iPads. Below is a compilation of some of the children's work.
P.E. Kits
Please can you ensure PE kits are WORN into school on our allocated P.E. Days. This kit should be appropriate for outdoor P.E. and should include appropriate outdoor footwear.
PE Days this term are: Mondays and Tuesdays. An outdoor PE Kit of school colours, including an appropriate sweatshirt, t-shirt and either shorts or jogging/tracksuit bottoms should be worn into school on these days.
Reading
Reading is an integral part of the primary curriculum so please ensure you are reading every day and recording it in your Reading/Spelling Journals. These are the little yellow books and should have your weekly spellings in them at the front, as well as space to record your reading progress at the back.
Guidance on How to Use the Little Yellow Reading Record
Take a look at the Year 5 Recommended Reading List for ideas on age appropriate texts!
YEAR 5 RECOMMENDED READING LIST
Spelling
Spellings will be given on the Friday of each week and will be tested on the following Friday. There will be 6 spellings given that follow a particular rule each week, with 4 'mystery' words tested to see if the children have learnt the spelling rule as well as the spellings given.
Alongside this, we will also be focusing on our statutory spelling list for Years 5 and 6 this year, so each child will be given 20 spellings from this list per term and 5 extra from the Year 3/4 list and will then be tested at the end of that term. Please ensure that the weekly spelling rule, the 6 weekly spellings and the 25 termly spellings are being practised regularly.
It is also important that children know the meaning of the words they are learning to spell... as we might ask you to put one into a sentence!
YEAR 5/6 STATUTORY SPELLING LIST
Term 2 Termly 25 Spellings are:
pronunciation
soldier
accompany
disastrous
aggressive
appreciate
attached
opportunity
according
interrupt
temperature
signature
leisure
recognise
vegetable
category
cemetery
definite
desperate
determined
pressure
guard
woman/women
accident(ally)
actual(ly)
Term 1 Termly 25 Spellings are:
programme
equip (–ped, –ment)
committee
correspond
accommodate
recommend
communicate
community
identity
physical
rhyme
rhythm
symbol
system
occur
dictionary
embarrass
exaggerate
marvellous
government
disappear
occasion(ally)
exercise
appear
bicycle
Homework
HOMEWORK THIS YEAR WILL BE SET ELECTRONICALLY VIA GOOGLE CLASSROOM
Everyone will be given homework on the Friday of each week, which will be due on the following Thursday. Children will be given:
a Maths task, which links to their learning from that week.

a Grammar task linking to the skills we have focused on in that week.
Please make sure that if you are struggling with your homework, you come and see Miss Tingle or Mrs Roden as soon as you can!
Key Documents and Helpful Websites
Here are some handy websites for you to look at at home to help you with your learning. If you find any others, let me know!
http://www.bbc.co.uk/education/levels/zbr9wmn